Max Reinhardt
Voucher
€ 24
Breakfast in a unique ambience
Online reservation
Best price guaranteed!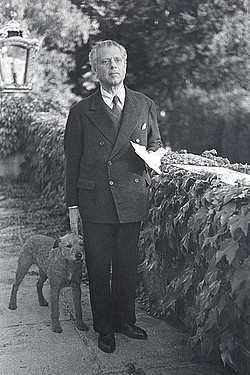 In 1918, the Schloss, which by that time had fallen into a state of severe disrepair, was sold to Max Reinhardt, Europe's most famous theater director and co-founder of the Salzburg Festival. Reinhardt committed his considerable creative talents to the restoration of the Schloss, and with the assistance of Salzburg artisans, he renovated the staircase, the Great Hall, and the Marble Hall.
The Library and the Venetian Room are Reinhardt creations, as are decorations in other salons. Max Reinhardt brought life to Schloss Leopoldskron in literal terms, with his theater productions, audiences, and many friends.
In the plays, Reinhardt made use of the entire Schloss by moving audiences from room to room, which were used as sets in and of themselves. He constructed a garden theater, with the lake and the Untersberg as backdrop, in what is now the Schloss park. During the Reinhardt years, Schloss Leopoldskron was an important gathering place for theatrical producers, writers, composers, actors, and designers from both Europe and abroad.
Together with Hugo von Hofmannsthal and Richard Strauss, Max Reinhardt founded the Salzburg Festival at Schloss Leopoldskron, which officially started with a performance of Hofmannsthal's Jedermann on the city's dome square on 22 August 1920.
World War II brought an end to the Reinhardt era: In 1938, the Schloss was confiscated by the Nazi government as "Jewish property." Reinhardt, who was living and working in Hollywood at the time, never returned to Leopoldskron, but his heart never left. Max Reinhardt died in New York City in 1943. Prior to his death he wrote to his wife, the Austrian actress Helene Thimig:
"I have lived in Leopoldskron for eighteen years, truly lived, and I have brought it to life. I have lived every room, every table, every chair, every light, and every picture. I have built, designed, decorated, planted and I have dreamt of it when I was not there. I have always loved it in a festive way, not as something ordinary. Those were my most beautiful, prolific and mature years ... I have lost it without lamenting. I have lost everything that I carried into it. It was the harvest of my life's work."