Schloss Leopoldskron Today
Voucher
€ 24
Breakfast in a unique ambience
Online reservation
Best price guaranteed!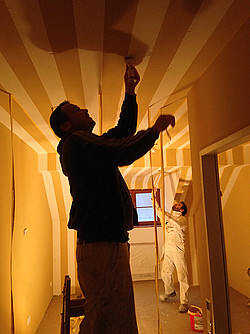 Today, Schloss Leopoldskron is home to both Salzburg Global Seminar and Hotel Schloss Leopoldskron.
Still today, the Schloss is not a museum; instead all rooms are "alive" and used on a daily basis, offering guests together with the surrounding Schloss Park, a unique experience.
To maintain this beautiful property requires continuous care and periodic restoration. In 2012, an eleven-year restoration of the Schloss Park, home to dozens of statues and the site of Max Reinhardt's lost garden theatre, was completed. The Schloss Park is exclusively open to guests of Hotel Schloss Leopoldskron all year round.
Since 2013, the US-based Samuel H. Kress Foundation has been sponsoring a multi-year project to catalogue the large collection of art on display and in storage at the Schloss. The project is aimed at prioritizing future restoration of historic paintings, furniture and architecture, and at training staff in the most effective conservation methods.
Early in 2014, the Meierhof underwent substantial, two-month renovation. The new design incorporates elements from the 18th century Schloss, such as headboards crafted from historic shutters, establishing a connective thread that now runs through the entire property. The hallways are decorated with photography from Max Reinhardt's Salzburg Festival productions. In addition, three themed rooms were created, referencing the Meierhof's role in the 1964 filming of "The Sound of Music". The remodeled Meierhof Café reflects on the history of Salzburg Global Seminar by displaying historic images from 1947 until today, while the bright, friendly Reception allows for more personal contact between staff and guests. Last but not least services were fine-tuned and a heavy focus on the guests' experience was introduced.
In late February 2014 the property reopened under its new name, Hotel Schloss Leopoldskron. Guests from around the world cherish the unique atmosphere at Hotel Schloss Leopoldskron, among them Karl Lagerfeld, who transformed the Schloss into a giant runway for his 2014 CHANEL Métiers d'Art fashion show.
As Schloss Leopoldskron is a private property, it is exclusively accessible to hotel, event, and conference guests. However, on select dates, non-hotel guests can also visit the Schloss: an annual "Open House" is held in November, allowing the local community to explore the property. Since 2014, guests can also attend performances of "Shakespeare in the Park" throughout the summer, where they follow actors of the Salzburg State Theater through the park. The annual New Year's Gala at Schloss Leopoldskron, a tradition in itself, offers all guests a unique opportunity to celebrate the new year in style.
The unique location of Schloss Leopoldskron with its unrivalled vistas of the lake and Untersberg mountain, make the Schloss one of Salzburg's most highly sought after wedding venues.
In early 2018, the 12 historic suites in the Schloss were completely renovated, ensuring the unique atmosphere will be conserved.
Hotel Schloss Leopoldskron is a member of Schlosshotels & Herrenhäuser, Heritage Hotels of Europe and Klimabündnis Österreich, Europe's largest climate protection network.