Pure Inspiration
Voucher
€ 24
Breakfast in a unique ambience
COVID-19 information
Online reservation
Best price guaranteed!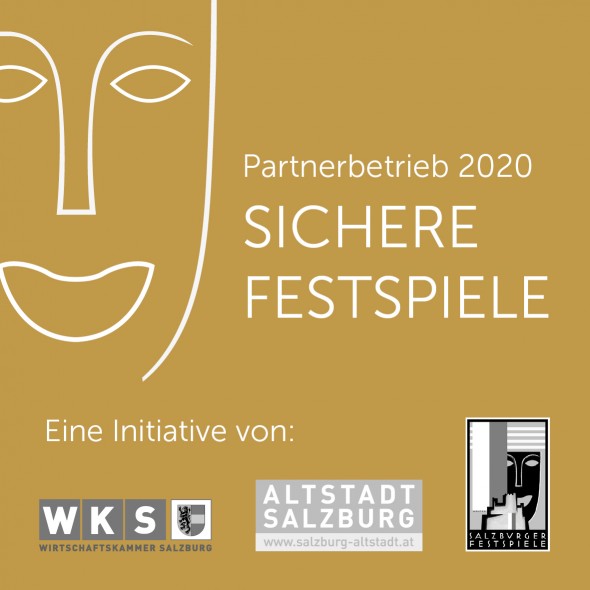 The whole world will look to Salzburg this summer when the city of Mozart once again becomes the world capital of culture. We are committed to complying with all legal standards in the fight against COVID-19, as well as the extended hygiene and safety standards of the Salzburg Festival, to offer you a safe and carefree stay in Austria.

In addition to complying with safety and hygiene measures, our employees will take tests for the COVID-19 virus on a regular and voluntary basis. The protection of our guests, employees, and partners is our top priority.
Dear Guests and Friends,
We are open for business and very much look forward to welcoming you back to Hotel Schloss Leopoldskron - albeit with some modifications.
You can find a detailed overview of all health, safety, and service measures we have initiated for your protection, for the protection of our staff, but also a more personal and exclusive experience while staying at Schloss Leopoldskron here.
Should you have any questions or require more information, please do not hesitate to contact me at any time. Alternatively, please visit Salzburg Global's COVID-19 Statement for further details. Thank you.
Stay healthy and stay safe - see you soon!
Best regards,
Daniel Szelényi
Vice President, Hospitality
Salzburg Global Seminar
Schloss Leopoldskron
Stay and experience Salzburg's historic atmosphere
With 55 rooms in the Meierhof, 12 suites in the historic palace, and two townhouses, Schloss Leopoldskron is an exclusive and discreet hideaway just minutes from the Old Town of Salzburg.
Built in 1736, and surrounded by 17 acres of manicured grounds, Schloss Leopoldskron is nestled by a small, idyllic lake, and features majestic views of the mountains and the Hohensalzburg Fortress.
Spacious suites in the Schloss and elegant rooms in the Meierhof
For a short city break, a visit to the Salzburg Festival, or maybe even a wedding, our hotel provides you with all amenities for your stay in Salzburg. A dreamlike breakfast, as well as our detail-oriented design and service mentality, will make your stay all the more delightful. Enjoy your stay in charming rooms and historic suites, stroll around the Schloss Park, and draw inspiration from the surrounding mountains, serene lake and a view of the Salzburg Fortress.
"The hills are alive with the sound of music
With songs they have sung for a thousand years.
The hills fill my heart with the sound of music.
My heart wants to sing every song it hears."
Maria
The Sound of Music
"I lived in Leopoldskron for eighteen years, really lived, and I brought it to life. I have lived every room, every table, every chair, every light, every picture. I built, drawn, decorated, planted and dreamed of when I was not there. ..."
Max Reinhardt
Theater impresario and director
Inspiring rooms for conferences and seminars in Salzburg
As well as being the home of the international non-profit Salzburg Global Seminar, Hotel Schloss Leopoldskron is used by other organizations as an ideal business venue for seminars, workshops, and conferences. Combining historic ambience with modern event equipment, the result is a productive and inspiring work atmosphere which guarantees innovative and successful events.
Find out more about holding seminars in Hotel Schloss Leopoldskron – we will be happy to provide you with more details.
Vacation in Salzburg: Arts, culture and delightful surroundings
Salzburg is always worth a visit. Historic sites and tourist attractions in the Old Town and surrounding countryside as well as numerous concerts, theater performances and other cultural events throughout the year, make the provincial capital a popular travel destination for Austrians and international guests alike.
We have already prepared a list of tourist attractions and activities in and around Salzburg for you: Enjoy exploring Salzburg and Surroundings! Whether for celebration, business or simple relaxation, whatever you are up to, we look forward to welcoming you!
Unique events taking place in the Schloss and the garden
Enjoy an evening with Shakespeare in the Park and treat yourself to our picnic basket before the start of the performance. You're also cordially invited to our Open House Day with a Christmas market on 20 November 2020. To end the year in style, we offer a unique New Year's Eve Gala. Come and celebrate with us!
For the romantics
Hotel Schloss Leopoldskron is available as an elegant wedding venue. Every year wedding couples from all over the world turn their dreams into reality and get married at Schloss Leopoldskron.